1Lt Roslyn L. Schulte Bracelet (USAFA '06)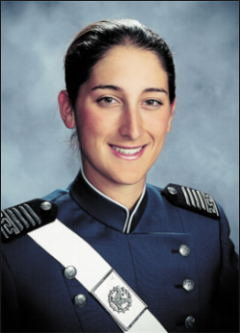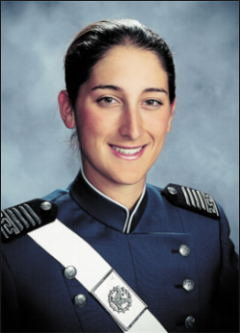 1Lt Roslyn L. Schulte Bracelet (USAFA '06)
1st Lieutenant Roslyn (Roz) Schulte died on May 20, 2009 when the car in which she was riding was hit by a roadside bomb in Afghanistan. She was the first female Air Force Academy graduate to be killed in support of Operating Enduring Freedom.
A native of St. Louis, MO, Roslyn graduated from the Air Force Academy with academic and military honors in 2006. A member of Cadet Squadron 7, she was selected as Wing Superintendent and as Group Commander, top leadership positions at the Academy. A high school All-American lacrosse player, she captained the Air Force Academy's women's' lacrosse team. After graduating from the Academy, Roslyn entered training as an Intelligence Officer at Goodfellow AFB in San Angelo, TX. After completion of Intel training, she was assigned to the Headquarters Pacific Air Force at Hickam AFB, Honolulu.

Roslyn volunteered for a deployment to Afghanistan and was assigned to the Combined Security Transition Command – Afghanistan CJ2 (CSTC-A) at Camp Eggers, Kabul, Afghanistan, in February 2009. She mentored the Afghan military in intelligence gathering and interpretation and assisted with humanitarian efforts. Roslyn was en route to a joint task force intelligence conference outside of Kabul when the vehicle she was riding in was hit by an IED.
In addition to the Bronze Star and Purple Heart, Roslyn was awarded the Air Force Combat Action Medal, Air Force Commendation Medal, Joint Service Achievement Medal, National Defense Service Medal, NATO Medal and Afghan Campaign Medal. She is survived by her parents, Bob and Susie Schulte, and her brother, Todd Schulte.